About Cat Fencing

Cat Fencing or electronic cat fences have been used across the globe for over 40 years. Of course, hidden fences were originally designed for use with dogs. The technology available did not lend itself well to use with cats as the computer collar receivers were too heavy and bulky. In the last 10 years, technology has advanced and cat fences have come on in leaps and bounds. CatFence is proud to be able to offer the smallest and lightest computer collars worldwide.
At CatFence we have pioneered a unique, simple and safe training protocol for cats. Flexibility and gentle training levels are the main attributes that allow our cat fence collars to stand out from the rest!  With recognition from vets and a leading cat charity, the number of cats using our systems is growing rapidly year after year.
Invisible cat fencing will give your cat freedom whilst keeping him or her happy and safe in their own garden.  You can also use a pet fence to designate areas that are "off-limits" such as flowerbeds, a gated driveway, children's play areas or swimming pools.
Security is, of course, the major benefit but also aesthetics are often a consideration. Hidden cat fencing is, of course, invisible, keeping your garden natural for you and your cat.  You will have no more worries about your pet running off or escaping onto the road. The fence is not intrusive as it, not a solid structure but it will give protection against open areas and driveways.
With a Cat Fencing system, you get all the benefits of letting your cats roam free without the associated stress. Your garden also benefits – unlike costly and ugly cat fence enclosures our fences are invisible.
Who is CatFence?
CatFence is part of the DogFence Limited group the UK's distributor of  Hidden Pet Fences.  Based in Marlow, Buckinghamshire, we supply and install concealed pet fences throughout the UK.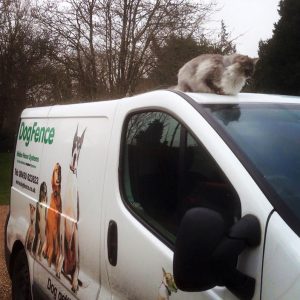 Why Our  Cat Fencing Systems Are Superior?
We are unique in the UK in using FM frequencies.   Other invisible pet fences use AM frequencies, which are slow to respond and prone to interference.
Safelink, our patented FM digital technology, provides maximum protection against false activation of the computer collar. With an AM system, stray signals can accidentally activate the pet's collar. With our cat fence system, this hazard is removed.
Safelink is 15 times faster than any AM pet fence which means no pet can outrun the FM signal.
Our receiver collars are smaller, lighter, and kinder to your pet.   The R7m collar is the smallest on the market and weighs just 30g.