How do we install an electronic cat fence?
Firstly it's no secret if you want to self-install we can equally assist you.  As you may well know at CatFence, we are unique as we are the only company to offer a complete professional installation training. Therefore, we not only install the fence but train both you and your cat.
Impressively, this is one of the major factors that gave our fences DEFRA approval. All our electronic cat fences come with ongoing aftersales support and professional-grade products. After all, with many years of experience in the field, and our unique training programme we obtain a 99.5% success rate on all our installed systems. As with people we all learn differently and some cats may need additional training which we are happy to offer. Above all keeping your cat contained is our goal and in rare cases, we will work to achieve this goal.
Surveying your property
Interestingly, and importantly it is not necessary to visit your property to give you a quote for your cat fence. Our office team all have access to a professional land surveying tool and in most instances, we are able to access a map of your property to measure the boundary, assess the terrain and give a very quick and precise estimate. If you do not want to "fence" the whole of your property we can draw out options to suit your requirements. In order to give you an estimate, we simply require your location in the UK, (postcode and house name). We are able to install on almost any terrain including woodland, slopes (it is not always possible to bury on very steep terrain), formal gardens and through streams and paddocks.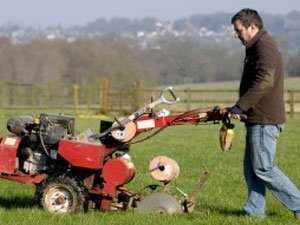 The day of the dog cat fence Installation
On the day of installation, the Installer/Trainer will walk around the property with you to discuss the best route for the boundary cable. Through discussion, he will locate a suitable electric supply for the transmitter (in a dry area with a standard 240-volt socket).
Our objective is to give your cat maximum room in the area (safety zone) but also looking to prevent a possible boundary cable break. Where possible we bury cable but in some situations, it may be preferable for the cable to be placed above ground. Our cable laying machine will bury the cable to a max depth of 6″ (depending on the terrain). This is to avoid any underground wires or services that you may have on-site. With cats, we need to consider any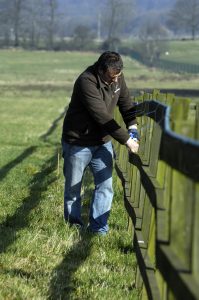 natural ladders that they may be able to utilize to climb up and over the signal zone. The electronic cat fence can be used to cover open areas or placed on top of solid structures.
Using the latest Installation Equipment
CatFence always ensures that we install to the highest standards.  By using our discreet cable laying machine we make a minimal disturbance to your formal lawns and reduce the chances of a cable break. All our cable is heavy-duty to further protect your system. After the burial, a small groove (approx ¼") may be seen for a few days. The cable will be buried under your driveway; tarmac & concrete drives will receive a small ½" cut which will be sealed afterward. Lastly, all our installed systems are supplied with our Professional heavy grade cable.  It goes without saying this cable is suitable for direct burial and all weather extremes.
Training Cats to the electronic cat fence
Our unique cat training protocol offers a simple stress-free and safe approach. We cannot offer the same training for cats as we do for dogs as a cat's personality differs dramatically. Cats will walk on a lead or accept verbal training, unlike dogs. Cats are not dogs so why should their training be lead orientated? Their movement is different and, therefore, so should their training program be different. Our training program takes into account cats natural curiosity, movement, and mentality. It is specifically tailored to suit a cats personality. All our cat training is carried internally. This way we can be sure that when the cat is allowed outside the cat is 90% trained. As with all training, we get better with time!
After the system is installed, cat training begins using an indoor unit. The outside system is not activated for about 2 – 5 days. During this time the cat learns using the indoor training unit. Our Indoor units are loaned for 14 days. By training internally the cats' movement and reactions can be monitored in the confine of the home.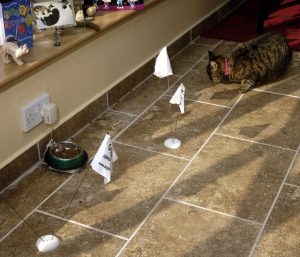 Our office team can draw out options for your system and answer any questions. Simply complete the online quote form for a quick and free quotation.