Pro Fence – The Invisible Cat Run!
If you have been for a cat run to keep your cat safe and stumbled on our Pro Fence you're probably intrigued?
You want to keep your cat safe but don't want to build a huge structure. Look no further the Pro Fence offers a safe and affordable option for cat containment.  Unlike traditional a cat run or cat enclosure, the pro fence can cover the contours of your garden. It can even protect the driveway.
Our fences are invisible. We create an invisible no go barrier around your property with a wire, transmitter and computer collar. To learn more about it works click here
Our Pro Fence can be used to cover gardens and properties up to 5 acres. The Pro Fence can be used on most terrains and will surround the boundary so your cat can enjoy the whole garden. You may want to allow your cat to just use the rear garden just keep them away from the roads.
The Pro Fence allows your cat to roam freely. They can enjoy climbing trees within the boundary, hunting or just lazing under a shady bush!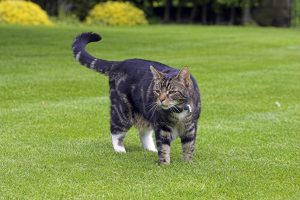 Suitable for properties up to 5 acres (approximately 700m boundary)
Complete with the most advanced computer collars available worldwide – small, lightweight (30g) and intelligent!
TattleTale intelligent software identifies when the collar has been activated
AutoMemory will automatically adjust the training level if the collar is activated a second time in a 24 hour period
Low battery warning
Self-test feature
So if it's an invisible cat run how will the cat know where it is?
The answer is training. People often say you can't train a cat. Well, at CatFence we are proud to boast a unique training protocol that was used as part of a 3-year study into cat containment. Not only will we install your fence but will train your cat for you.
Every time the cat's collar enters the "no go zone" it emits a high pitched warning beep. Using some simple flags to mark this area the cat quickly learns where he can and can't go. The impulse is only delivered if the cat ignores the beep. This is a low-level impulse, similar to a tens machine and is very safe and harmless. It startles the cat and each cat will have its own impulse level. Once trained the cat should rarely if ever receive an impulse.
Our experienced Installers will not only install the cat fence but they will train your cat. All the training is carried out internally using an indoor cat fence. This is loaned to the customer for a few weeks but in reality, is only used for a few days. If you are not sure read our Testimonials on our DogFence site (this include both dog and cat owners) here.
R7 micro Computer Collar – the world's smallest
Battery life: 6 months
Weight: 23g (30g inc battery)
Correction levels: 1 – 7 + beep only
FM safelink ®: guaranteed no false activation
FastReact software ®: the cat cannot outrun the signal
AutoMemory ®: will change the training automatically
Waterproof to 10ft: not that many cats swim!
Lifetime warranty: installed systems only.
Auto shutdown: shuts down after 15 seconds to prevent over-activation.
Anti Linger: if your cat lingers in the warning zone.
Status light: shows if the cat has received a correction and lets you know when the battery is low.
3 Omni-directional antennae: to give excellent all-round pickup.
Fastest start-up and shutdown time available
Warranty
CatFence offers an industry-beating warranty. Lifetime warranty on all our professionally installed systems and a 4-year warranty on all self-installed systems. Our warranty includes accidental damage and even lightning strikes – no other manufacturer can match the warranty. *Warranty excludes damage to the cable.
How much does a CatFence cost?
Prices start from £388.  Contact us for a no-obligation quote.
What is included in the ProFence kit to keep a cat fenced in?
Transmitter
Receiver collar (R7m)
Lightning & Surge Protection
Tester/adjuster
Installation DVD
Owners Handbook
The cable quantity depends on the size and shape of your property. Using the latest land surveying software we can measure your property. No need to site visit – quick easy and efficient estimates.
We use ProGrade Cable, designed exclusively for the Pet Fence Industry. When buried the 16 stranded conductor with 0.45" insulation is rated at 75 ºC, 300V for wet or dry locations. The High Molecular Weight Polyethylene (HMWPE) insulation is formulated to provide excellent oxidation stability, toughness, and abrasion resistance.