We all love our cats but there may be areas that you don't want to share with your cat…
The Indoor Fence can be used to complement your existing CatFence system and as a cat containment system it is reliable and practical.
Although you may be very happy for your pets to share your home, that doesn't necessarily mean that you want them in every room of your house such as a baby's bedroom, the room with the best furniture, or on your work tops etc.
The Indoor unit can be placed in a room so that just part of the room is excluded or even at the front door to prevent your cat going onto the driveway and if you have dogs and cats to separate them in certain areas.
INTRODUCING BOB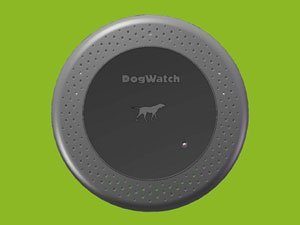 Our most popular add on to the CatFence System, the Battery Operated Boundary (BOB), can be moved from room to room. This rechargeable unit can be used to stop your pet going upstairs, or onto sofas, and can be placed just inside a doorway to prevent entry into a room. Finished in black it is virtually impossible to see when placed under a sofa. Lightweight and easy to move the unit can be moved around the house as required.
Just place the wireless fence transmitter in the area you want to protect and create an instant, wireless fence. The base station can be set in two ways.
No wiring required as BOB has a rechargeable battery (one charge lasts 4 – 30 days depending on use)
Range is 8ft diameter when used in horizontal position (i.e under sofa by stairway), or 5ft range when used in vertical position (i.e fixed to wall to place signal across large doorway or open area)
Works in conjunction with your existing receiver collars
Low battery indicator to alert that re-charging is required
2 year warranty (rechargeable batteries warranted for 1 year)
Battery Operated Boundary – £109 (excluding receiver collar)
INDOOR IB200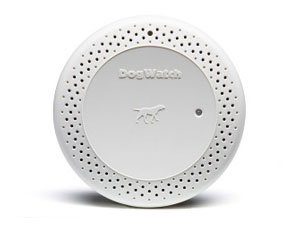 For larger areas that you may need to cover, the IB200 unit offers endless possibilities. This unit is not rechargeable but can be used in wireless mode or hard wired to cover multiple areas.
The IB200 Indoor unit is an indoor electronic system which keeps your pet out of a selected area, even when you are out. It uses the same receiver collar as the DogWatch outdoor fence – simply plug it in and set the range.
The Indoor unit doesn't come with a receiver collar – this needs to be purchased separately or used in conjunction with your existing outdoor system, so it's a great way to expand the value of your existing DogWatch cat fence.
If you want to keep your pets out of several rooms, CatFence can install the IB200 wired indoor system for you. When used in wired mode the unit can run approx 30m of cable, this can be placed under floor covering to cover multiple areas, under floor boards (if you a cellar for example) to "wire" multiple rooms or even under the work tops to keep cats off kitchen surfaces.
This is sound behavioural conditioning at work. Consistency is the key. So simple,  so effective.
Indoor system 1B200 – £109.00 (excluding receiver collar)
BESPOKE DOORWAY SOLUTIONS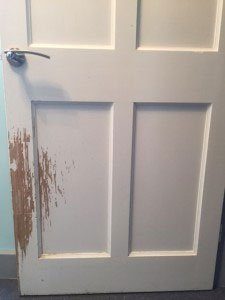 Scratched doors can be a costly and annoying problem. There may be times when the cat needs to be shut out of a room with a door that he or she will later require access through – hard wiring this with a standard indoor configuration would mean removing the collar to allow access but our experienced installers can install a switch to protect the door when closed and shut off the signal to allow the pet through when open. This is a bespoke service – call for further info.