Vets and pet professionals around the UK recommend our products.  Furthermore, they also use our products for their own cats and dogs. You can't get a better recommendation than that!
Whether it's our outdoor hidden cat fencing or an indoor wireless pet fence, experts agree that hidden pet fences are the most effective pet containment technology on the market today. Read on to see why our pet fence is vet approved and recommended.
Eric McCarrison (Vet of the Year 2007)
As well as recommending our products, Eric uses our hidden dog and cat fence for his two dogs and cat. He is quick to point out that the system not only saves the lives of cats and dogs but also human lives:
"My dog weighs 45kg if he runs out into the road and a motorcycle hits him this could cause a human fatality".
Professor Daniel Mills, Professor of Veterinary Behavioural Medicine at the University of Lincoln.
"While some will argue that electronic containment systems can never be justified for pets, others highlight that, in the UK alone, hundreds of thousands of cats are killed and injured on roads each year and these devices can prevent these often fatal injuries and the emotional cost to the cats and their owners. In contrast, housing cats solely indoors to remove such risks is associated with increased prevalence of a range of health problems including obesity, Feline Urologic Syndrome and dental disease. Long-term exposure to common flame retardants widely used in homes may also have toxic side effects for cats."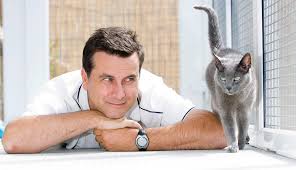 The Lincoln Study – Published October 2016:
The University of Lincoln's study found no evidence of long-term welfare problems with electronic containment of cats
Dr Jonathan Cooper, Principal Lecturer in the University of Lincoln's School of Life Sciences, added:
"However this new study suggests that with invisible electronic fences, at least, cats can be effectively contained without compromising their quality of life."
Indeed the study also commented that cats contained using the hidden fence system had a closer relationship with their family:
"Overall, the behavioural tests indicate that the cats who have experienced extended confinement using an invisible electronic containment system are generally less neophobic than cats not contained in this way" .
Dr. Andrew Sloyer – Veterinary
"My clients and I both know how wonderful a DogWatch pet fence system has been for ourselves and our pets. But what has been truly satisfying is the professionalism of the DogWatch representatives. They have been prompt in answering any of our questions or concerns regarding the pet fence system and have presented a very caring attitude. The customer service and peace of mind have far exceeded my expectations."